A Week of Exploring 
I know it's been a while since I have last published any blog articles lately but it seems that time has run away from me. I have been struggling with transitioning from a "9 to 5" to a freelance job. I have found that being a young woman without the necessary "skills", that a lot of people try and take advantage. (By skills, I mean a portfolio). I have ended turning down jobs because they literally do not pay enough for me to survive. Have any of you been stuck in this horrible circle that you need a job to build a portfolio, but need a portfolio to get a job.
Oh well, I refuse to remain negative for too long. I have been working on short courses and have passed 2 so far, so watch this space.
However, in between all of this, we were lucky enough to have a week off to enjoy life. Kyle's mom and sister came to spend some time because of a family wedding. We then went into full tour guide mode and ended up having an awesome time with them.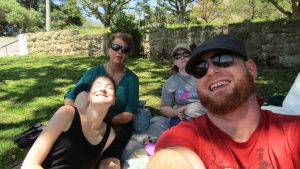 We started off the day of the wedding. We didn't want to drive all the way home from Stellenbosch after the wedding so we booked accommodation near the venue. It was a lovely bed and breakfast called Rosenview. Before the wedding we had a bit of time to spare so we had a light lunch at Route 44 Market first. It's a dog friendly weekly market with local businesses, great food, craft food and live music. On the Sunday after breakfast we headed to the Oranjezicht City Farm-Market for a late lunch. This is a special market with a lot of fresh food. It has a lot of vegan options and is also dog friendly.
On Monday we decided to take it easy. We went grocery shopping and then in the afternoon we met with Kyle's Aunt and Uncle for lunch at Ons Huisie in Blouberg. By this stage the heat wave predicated had really kicked in and the heat was reaching unbearable levels.
Tuesday saw us going to look for penguins. Boulders Beach at Simon's town is the best place for this, so we packed a picnic and hit the road. We took the scenic route so the Kyle's sister Amy-Joy could take photos. We stopped at Hotel Glencairn for a colddrink as the weather had not improved. We went to the SAN Parks Boulders Beach, but it was packed so we headed to Seaforth Beach which has a beautiful grassy area to picnic and doesn't cost anything. The penguins put on such a spectacular show, even surfing on waves. We headed home via Champman's Peak. We had an awesome surprise because when we got to the top and looked over Hout Bay there was a whale in the bay. It didn't breach but it was still a wonderful experience.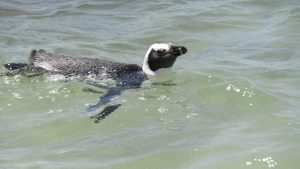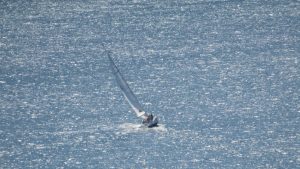 On Wednesday we packed a picnic and headed to Kirstenbosch Gardens to have lunch under the trees. We wanted to explore the gardens, however we had under estimated the heat, so we ended up walking to the Tree top bridge and then decided to leave and find ice-cream. We headed into Rondebosch and had Ice-cream at the Creamery Café.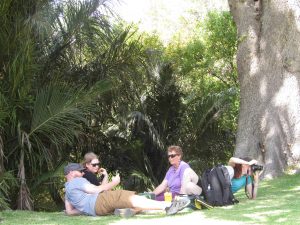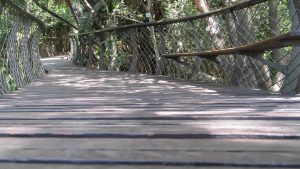 On Thursday we had a slower start. We headed through to the V&A Waterfront and went on a harbour tour. This was a very cute little boat trip which allowed us to see seals. We even saw tug boats bring in a ship to the harbour. The guide was informative and made some really good jokes. For lunch we went to the MOJO market in Sea Point. This market is mainly a food and drink market but does have a few little craft stores. There is a fish place there that makes sweet potato chips that Kyle's Mom was really looking forward to all week. In the afternoon we headed to Somerset West to see some more family. We ended off the week with some ice-cream from Baskin and Robbins.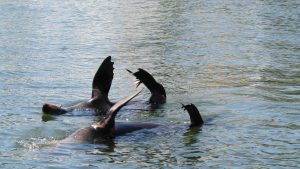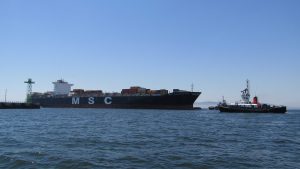 It's always nice to show other people where we live and it's an excellent excuse to explore our town a bit more.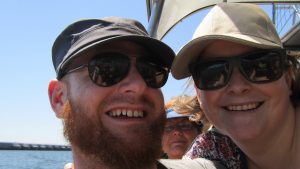 A week of exploring Fact Box
Rosenview Guesthouse is very central to a lot of attractions in Stellenbosch and is about 15minutes from The Strand beach. There is a lovely breakfast included in the price. – https://www.rosenview.com/
Route 44 market is an awesome place to get lunch that is pet friendly. Food ranges in prices – from cheap to expensive depending on what you get. They also have wine and a selection of craft beer. There are also great stalls with clothes to art to furniture. – https://root44.co.za
Oranjezicht City Farm – Market is an awesome city farmers' market with great organic food. It is pet friendly and is a lovely way to spend an afternoon. – http://www.ozcf.co.za/
Ons Huisie is situated in Blouberg with a lovely view of the beach. It has excellent service and great food. A main meal here ranges between R85 and R235. – http://www.onshuisie.co.za/
Seaforth Beach is a great place to view penguins and doesn't cost anything. It has a lovely grassy patch to have a picnic. However, it can get super busy.  There are some vendors there selling different crafts.
Boulders Beach is the famous penguin beach It's part of the SAN Parks Table Mountain National Park. There is an entrance fee of R39 per adult and R20 per child. This price is for South African citizens only. See the website for more pricing options. General information – https://www.sanparks.org/parks/table_mountain/tourism/attractions.php. Prices – https://www.sanparks.org/parks/table_mountain/tourism/tariffs.php
Chapman's Peak is a famous pass. There are pull of places to see the view as well as picnic spots with bathrooms. There is a toll on the route and it varies in cost depending on the type of vehicle. A car costs about R47 per car.
Kirstenbosch Gardens is an beautiful place to spend the day. There is a lot of walking so remember comfortable shoes and a bottle of water. You can either picnic or you can eat at one of the 3 restaurants. They also have summer time evening concerts. It costs R70 per adult and R20 per child. They also have special prices for pensioners and students. You can buy tickets in advance on WebTicket (https://www.webtickets.co.za). Ticket prices – https://www.sanbi.org/gardens/kirstenboch/visitor-information/information/. General information – https://www.sanbi.org/gardens/kirstenbosch/
There are many boat trips available at the V&A Waterfront ranging in price from R50 up. All you have to do is walk along the harbour and see which trip best suites you.
Mojo Market is in SeaPoint and has a large range of food options. They also have a bar with 100 different beers. – https://www.mojomarket.co.za/