Finding the Most Relaxing Place in Cape Town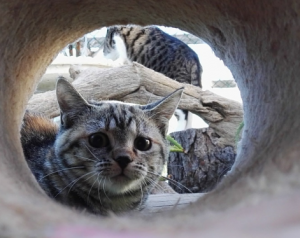 Two years ago, my husband and I decided to move to Cape Town with our rescue cat, Floki, in tow. We knew very few people in this town and even fewer places. Floki for some reason, known only to her, decided that she wanted to become an indoor cat. This led us to decide that we wanted to find a friend for her. However, we didn't know anywhere in Cape Town to adopt a cat other than the SPCA. Then one day we were buying food from our local pet shop and they were collecting for Mandela day. We asked what charity it was for and they told us it was for The Lucky Lucy Foundation. We headed home and looked it up on the internet. It took us a while to decide to head out there because I am very wary of animal shelters as they can be very sad places to visit.
Well, eventually we couldn't put it aside any longer and we headed through to farm. We had no idea what to expect. We arrived and parked our car. Nervously (well for me at least because I had wanted a second cat for a while) we walked towards all the activity. The first thing that struck me was how bright and colourful everything was. There were murals along the walls of the dog area with such positive words. There was a cacophony of noise, people talking and dogs barking and yet it sounded so cheerful. As we walked in, we were greeted by a dog through the fence, we later found out his name was Nero. As we were talking to him through the fence, someone walked over and greeted us so warmly and asked if we were there to walk the dogs. We didn't even know you could walk the dogs. We promised to return the next weekend to help.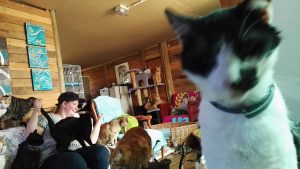 We then walked into the cattery. It took our breath away. It is the most magical place I had ever been too. There was a beautiful garden just filled with cats. We were greeted by a lady called Patrys, who told us the best way to find a cat was to let the cat choose us. After spending a good two hours just sitting with all the cats we fell in love with a truly special girl, who did choose us by sitting on Kyle's head. The adoption process was so easy and after the home-visit, we were approved to adopt. We changed the cat's name to Freya and she has become an integral part of our little family.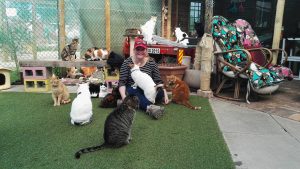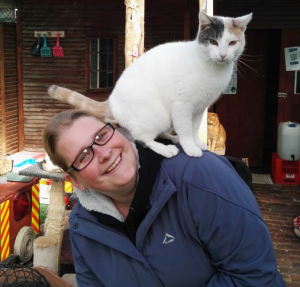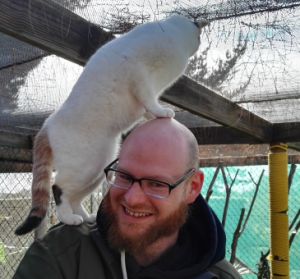 We did go back the next week to walk the dogs. Everybody was so friendly and chatty that we immediately felt part of the family. Unfortunately, we generally can only get to the farm once a month to walk the dogs but I look forward to that day all month. Despite the fact that we are exhausted when we get home, I feel so relaxed in the week afterwards. We often sit in the cattery after we have walked the dogs just to unwind before we head home. Just sitting there with all the cats playing around you is enough to melt away the stress of an entire year.
My favourite memory at Lucky Lucy Foundation is when my husband and I performed one of our marriage ceremonies in the forest on the farm. It was so special. Our friends have also done their engagement shoot in the cattery because it's just such a lovely garden.
We really have become part of the family of the most relaxing place in Cape Town.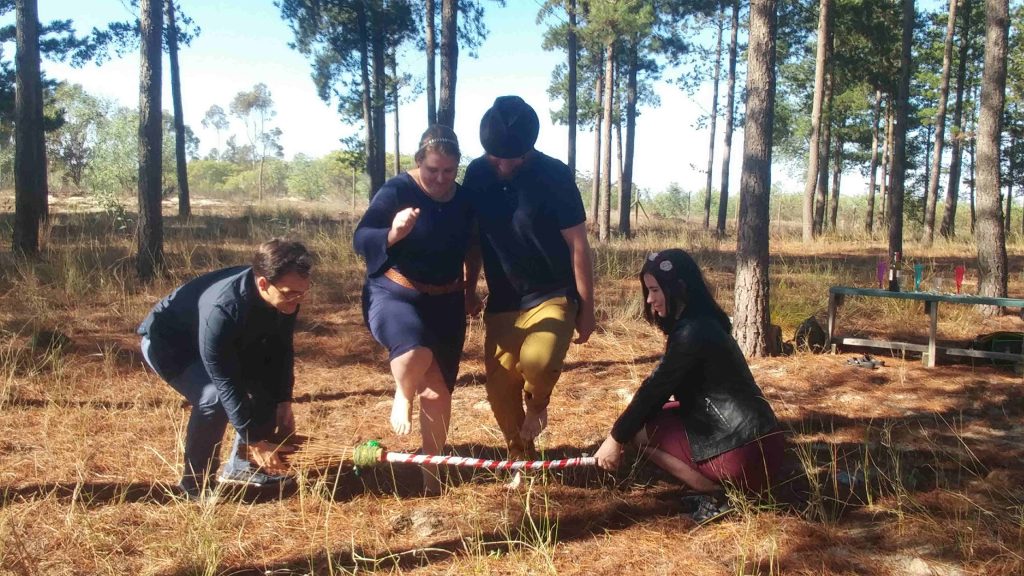 For more information about Lucky Lucy Foundation, visit their website http://www.luckylucy.org